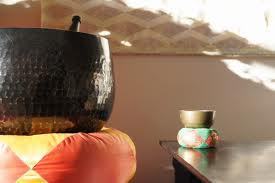 Date:
Sunday 12 March 2017 (10:30 -12:30)

Location:
Dublin Shambhala Center
Group meditation practice
Every Sunday morning we gather to as a community to practice and have some tea and conversation. This is a great way for newer people to meet with more experienced teachers and practitioners and vice versa.
We gather at 10.30 and practice begins formally @ 10.45 and runs 12.30.
We open and close with chants and there is sitting and walking meditation in between.
On the first Sunday of each month we practice the Shambhala Sadhana followed by a community lunch in the centre.
You are welcome to attend the Sunday gathering if you have previously attended one of our Wed open nights or one of our training courses.
There is a suggested donation of 5-10 euro for the event.
'When we have the wisdom to acknowledge the goodness of ourselves and others, our relationships reverberate with enlightened repercussions. This reverberation is enlightened culture. In an enlightened society we are perpetually awakening and acknowledging this underlying energy'
Sakyong Mipham